Obituary For Frances N. VanNostrand at Ironside Funeral Home, Inc.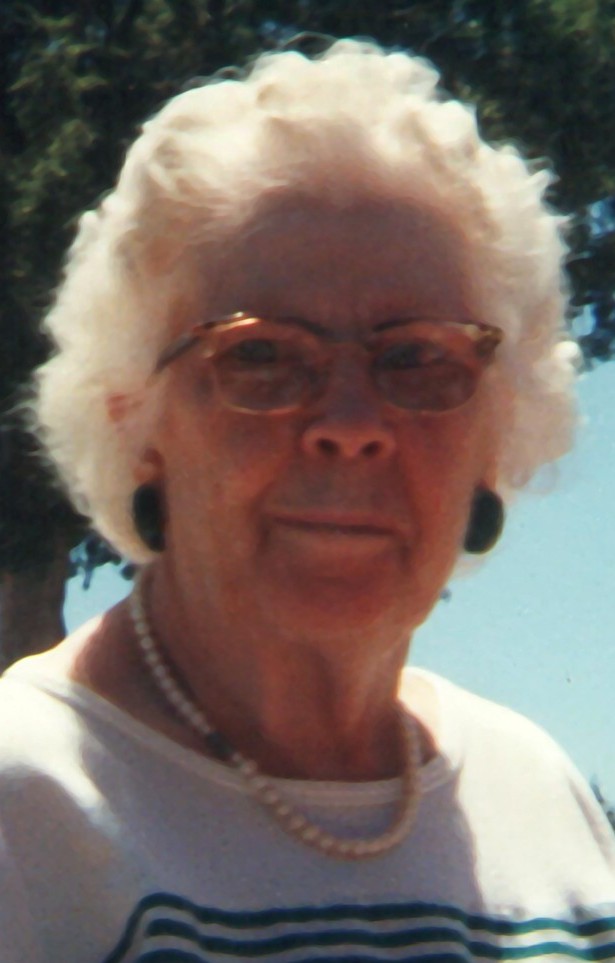 Frances N. VanNostrand, 96, 160 Banta Road, Pleasureville, KY formerly of 226 Farrier Avenue Oneida died peacefully Friday morning February 8, 2008 in Shelbyville, KY at the home of her granddaughter Jessica Rucker.

Frances was born on November 27, 1911 in Niagara Falls, NY the daughter of Frank and Jessica Coughill Nelson. She was educated in the Buffalo School System #4.

She had been a resident of the Oneida, NY area for much of her life and had lived in Sherrill, NY for 19 years before moving to Kentucky in 1999.

Frances was a member of the Gethsemane Episcopal Church in Sherrill, NY and was a former member of the Altar Guild.
She married George P. VanNostrand on January 26, 1950 in Sherrill. Mr. VanNostrand died on January 21, 1970.

Surviving is her daughter with whom she resided; Barbara and her husband John Zekausky of Pleasureville, KY, one step-daughter; Arlene Klish of Oneida, one step son Robert VanNostrand and his wife Colette of Boston,VA, one sister; Eileen Donovan of West Seneca, NY, one granddaughter Jessica Rucker of Shelbyville, KY, one grandson; Shannon White of Pleasureville, KY, 7 step grandchildren, 3 great grandchildren, 15 step great grandchildren and 10 step great great-grandchildren and several nieces and nephews.

Funeral Services will be held 11:00 AM Thursday February 14, 2008 at the Gethsemane Episcopal Church 320 Park Street Sherrill, NY with Rev. Beverly Messenger-Harris officiating. Interment will be made in Valley View Cemetery Oneida. Friends are invited and may call 2-4 & 7-9 PM Wednesday at the Ironside Funeral Home, Inc. 342 Main Street Oneida, NY. Memorial Contributions may be made to Shelby County Humane Society P.O. Box 1261 Shelbyville, KY 40065.

Share
Send Flowers
Messages of Sympathy
Barbara and family It was so good to see you but sorry it was under such sad curcumstances.. We are never ready to lose a dear one but it is a comfort to know she is in a better place. It has caused me to do much reminiscing about the good old days in the neighborhood on E.Campbell and marble Streets. It was so nice to meet your children and to have a good visit with you. Hopefully we will see you again sometime. Thoughts and prayers will be with you. Sincerely, Neta and the Planck family
Posted by: Leneta Planck | Email: tplanck917@tds.net | Friday, February 15, 2008

---

To Barb and her family. Our condolences to you and your family of your Mother''s passing. It''s been years since we last seen her. Charles'' father and mother (Charles and Emma) Page spend a lot of time with her when he was growing up in Oneida. She is just away and her memory will always be there. To comfort you- To be with you- And, in time, to bring you. cheer. Love and prayers to all of the family.-----Charles and Betty
Posted by: charles & Betty Page | Email: pagecc@yahoo.com | Wednesday, February 13, 2008

---

To Barb and her family,My condolences to you and all your family on the passing of your Mom.... Its been a long time since weve seen each other. But I remember very well the relationship between my grandmother Clara Ascheman and your Mom at the trailer park and Oneida towers...My Aunt Delores and Uncle Peter remember as well..They used to live on Wayland Ave in Sherrill when you where in school..Do you remember were we first met???? At green lakes state park ------You and Vicki Case were Camping w/ your family{or hers I don`t remember} I was w/ Mark Wilgus and his family...I hope you Love Kentucky,,, I have been attending the Street Rod National`s every year since 2000. I live in Houston TX now...Prayers to you and yours at this time------Bill
Posted by: William {Bill} Kroth | Email: k363wndw@hotmail.com
Post a Message of Sympathy
All information is optional except for Message. DO NOT SUBMIT information that you do not wish made public on this site. We review all submissions and reserve the right to reject any messages.
Name:
Email Address:
Message: